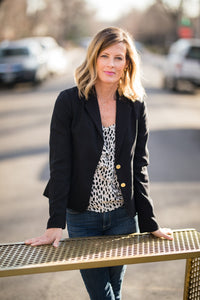 MY STORY
My family moved to Denver and decided to build a house in 2009.  I was tasked with selection of all home finish choices. At first, this seemed like a bit of a stretch for me since I was working full time in the science industry at the time. However, I ended up  enjoying the process immensely. It came easy to me and fulfilled my creative side. 
During the process of the kitchen counter fabrication, I had a small remnant of Calcutta marble left over. I was inspired to draw up a table design using the remnant, found a metal fabricator, and made my first table. A friend came over and saw the table and bought it that day. That prompted me to create a side business using marble remnants to design tables including consoles, coffee and side tables. Once again, I loved the creative process where I would pour through magazines researching and concepting different designs. That quickly led to finding remnants of fallen trees and making stump stools and side tables, and live edge tables from slices of wood.  I even dabbled in beetle kill pine table design. 
The evolution of my design approach quickly turned into what I affectionately label "hoarding" of products that I either made, designed or found so I was always ready with that perfect accent piece. This was infiltrating my home with swivel chairs, stumps, art, fabric...you name it. I was once again encouraged by friends and family who were saying "you should have a store." I think what finally pushed me to do it was visiting High Point, North Carolina and Round Top, Texas to shop for a client.  I noticed myself thinking, " I would love to sell that in a shop" or, "I can make that to sell." And the rest is...well, history. We opened during the middle of the Covid-19 pandemic right before black Friday. 
I'd like to say thank you to anyone intrigued by my concepts, and especially those loyal customers I am proud to call friends.
MY CORE VALUES
BEAUTY
I see beauty in everything, from bright green moss to a grand facade. Often there is beauty in someone's home that just needs a little refresh or a few complimentary pieces to breathe new life into it.
PASSION
I dive head-first into life and work. Client's projects are not only meaningful to me, but an obsession. The same applies to every piece at the RD Store + Studio - I've chosen each one with the same passion I would in choosing pieces for my own home.
CREATIVITY
The ideas I've brought to life are JUST the beginning. I am constantly coming up with unique ways to use materials or make something gorgeous. The world and everything in it is truly my canvas. I can't wait to offer another shiny new idea to customers!
SUSTAINABILITY
Not only do I love incorporating nature and all of earth's beauty into my clients' homes, I also believe in doing my part to reduce environmental impacts wherever possible. That's why giving old or discarded pieces a new, vibrant life through upcycling is a critical component of my creative process.
DEDICATION
My nightmare is that this sounds like every other interior designer's "guarantee" or "mission"...but I'm absolutely dedicated to not only bringing my clients' vision to life, but making it better than they ever imagined. I'm a little crazy about this and committed to a point that edges on being unhealthy!
COLLABORATION
Your house is exactly that. So whether I'm helping you pick out pillows for one room or redecorating your entire home, I listen to you first. I've found the best results come from listen, listening more and listening again. The collaborative process I share with clients makes my soul happy. Let's do this!
Testimonials
Amy has completely transformed our house, but through a lot of small, slow, and inexpensive changes. We started by reorganizing and sprucing up some shelves and have gradually freshened up every room. She really listens to us and keeps things cozy and practical as our family grows up.

Lisa Breytspraak
Amy has truly helped transform our space!  She listens to what we want for our home and takes it to another level that is even better than we imagine.  All while staying within our budget.  We love working with her!

Sarah Springer
Amy has an incredible eye, works with any budget, and really listens to the client. She has helped me with both big and small projects, and I know that I will get the same attention to detail regardless. I highly recommend Amy!

Lori Piser
We really enjoy working with Amy – she has a great sense of style, brings terrific recommendations and has a great sense of what will work for us.  She has made our home so much nicer to live in!

Beth Ganz